A Legal Win for the Climate?
On the 26th May 2021, The Hague District Court in the Netherlands ordered Royal Dutch Shell ("Shell") to reduce its carbon emissions by 45% by 2030 when compared to its 2019 levels. The order was the end result of the case Milieudefensie v Royal Dutch Shell, where the Friends of the Earth Society (amongst other groups) brought an action against Shell in negligence to order the Shell group to cut its emissions more drastically in order to meet internationally-agreed climate targets under the Paris Agreement. The implications flowing from this decision are substantial.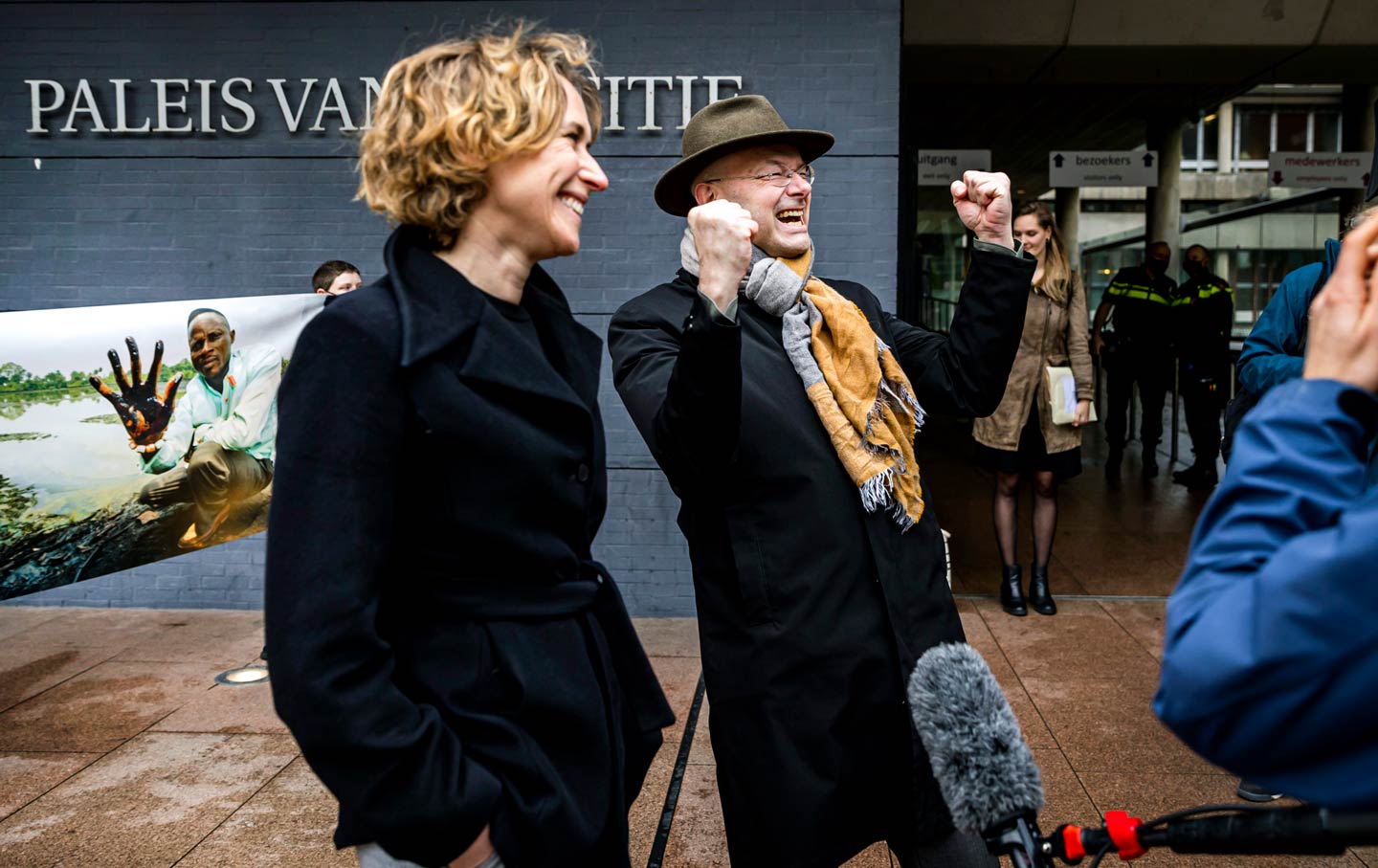 Donald Pols, the director of Dutch environmental group Milieudefensie (Friends of the Earth), celebrates the historic victory against Shell. Source: The Nation (2021)

Firstly, the decision should be acknowledged in its own right as the first time where an action brought by members of the public has resulted in the courts compelling a company to cut its carbon emissions. As such, the decision shows that everyday citizens wield a notable amount of power in pursuing strong climate action through the courts. This is likely to come as a relief to many who fear they cannot catalyse action on a sufficient scale to combat climate change because large entities are the ones who are producing the most emissions.

Moreover, the ruling illustrates that what companies advertise as their emissions targets may not be enough. Although Shell pledged to become net-zero by 2050, the Court nonetheless accepted the claimants' argument that Shell's current climate targets and pathways to achieving net-zero were still insufficient to meet Paris targets and that Shell needed to pursue more aggressive emissions reduction targets. What follows is that parties, companies or governments alike, may be challenged for not doing 'enough' to reduce emissions and could find themselves being sued for moving 'too slowly'. 

And finally, there is the possibility that similar cases may be brought against other emitters. Not only is the ruling limited to the petroleum industry (of which Shell is a major competitor) in the sense that other petroleum companies can be sued for not doing enough to reduce their emissions. Rather, arguments made by the claimants to succeed in the Shell case could be made against heavy emitters more broadly. Should this occur, companies will soon find themselves being legally compelled to decarbonise, perhaps much quicker than initially anticipated. 

Unsurprisingly, Shell quickly indicated their intention to appeal the decision. They have emphasised that they are already rapidly transitioning away from fossil fuels, noting that they were committed to investing billions of dollars in low-carbon energy. Furthermore, Shell has also criticised the decision for being ineffective in reducing emissions and that governments ought to be the ones who are pressured to introduce better policies and regulations to facilitate the transition to a net-zero economy.

Although the outcome of the appeal remains to be seen, what is clear is that Shell will not concede to the decision without a fight; a fight that will probably result in further legal battles that will take years to be decided in the courts at the expense of delaying climate action that is urgently needed. 

So while the decision has been hailed as a monumental victory for the climate litigation movement, a question must be asked: To what extent will these landmark legal decisions result in effective climate action?

There is the obvious fact that legal decisions of this magnitude can serve as something that is quite polarising in the world of business. Quite frankly, Shell probably feels 'done over' by the ruling for being 'singled out' despite climate change being the cumulative impact of emissions from a myriad of parties across multiple generations. In fact, Shell's chief executive Ben van Beurden said he was surprised by the decision and was "disappointed that Shell is being singled out by a ruling that (he) believe(s) does not help reduce global CO2 emissions".  Clearly, the decision appears to have done more to annoy Shell rather than to catalyse more effective climate action. 

There is also a further practical issue with the decision: Of course the decision provides no guidance or structure for how Shell should go about the arduous task of cutting its emissions faster. All the courts have done is told Shell to cut their emissions; the means of achieving the reduction of emissions are up to Shell. Now, it is not suggested that the Courts should instruct Shell on matters of business and environmental policy. All that is being suggested here is that legal decisions have their limits. 

Even more worryingly, we cannot be assured that Shell will fulfil its emissions reduction obligations in a matter that is beneficial to the environment. While the decision carries an implicit assumption that Shell will react by transitioning to renewable energies and relying less on fossil fuels, the world of business is far more complicated than this. One obvious (and profitable) way for Shell to reduce its emissions on paper and thus comply with the ruling is to sell its fossil fuel assets to another buyer who is still willing to purchase their assets. Why: Because the unfortunate reality is that emissions-intensive assets still remain profitable in a world that needs cheap, dirty energy to function (for now). 

On-selling fossil fuel assets is not something new. Mining giant BHP entered an agreement with Woodside Petroleum in late 2021 to merge its petroleum business with Woodside in a deal that will see BHP sell all its oil and gas assets in return for a 48% stake in Woodside.  On paper, the merger may be seen as a rapid reduction in BHP's emissions as it reacts to increasing pressure from investors to decarbonise. In reality, BHP has not solved the problem by 'removing' the emissions-inducing facilities from operation altogether; they have merely bequeathed their assets and any resulting emissions to another company. 

Returning to Shell, it is certainly plausible that Shell will do the same thing to "reduce" its emissions even though they would be merely palming off their emissions to another entity as opposed to removing the source entirely. Ultimately this is antithetical to the outcome the ruling in Shell was designed to achieve, and that is the gradual elimination of fossil fuels and a global transition to clean energy.

Unfortunately this plausible outcome seems to have passed unnoticed in the media and amongst case commentators. There is of course the possibility that another ruling can be made against the company Shell hypothetically decides to offload its dirty assets to but let's think of the time and expense of going to court. We cannot wait another 2-3 years for a ruling similar in effect to the Shell decision to be made against another company. The state of the environment, global relations and climate politics has become too precarious for that. To quote the Intergovernmental Panel on Climate Change, we have entered an era that is a "code red for humanity". We cannot delay climate action any further. 



References
[1] BBC News, 'Shell: Netherlands Court Orders Oil Giant to Cut Emissions' (online, 26th May 2021) <https://www.bbc.com/news/world-europe-57257982>. 
[2] Reuters, 'Shell Filed Appeal Against Landmark Dutch Climate Ruling' (online, 30th March 2022) <https://www.reuters.com/business/sustainable-business/shell-filed-appeal-against-landmark-dutch-climate-ruling-2022-03-29/>. 
[3] Joanna Partridge, 'Shell Chief Vows to Bolster Emissions Strategy After Court Ruling', The Guardian (online, 10th June 2021) <https://www.theguardian.com/business/2021/jun/09/shell-chief-vows-to-rise-to-challenge-but-feels-singled-out-on-emissions>.
[4] Harry Wise, 'BHP Forges Deal to Sell its Oil and Gas Assets to Woodside to Create One of the Largest Independent Energy Producers in the World', This is Money (online, 23rd November 2021) <https://www.thisismoney.co.uk/money/markets/article-10229113/BHP-forges-deal-sell-oil-gas-assets-Woodside.html>. 
[5] United Nations, 'Secretary-General Calls Latest IPCC Climate Report 'Code Red for Humanity', Stressing 'Irrefutable' Evidence of Human Influence' (press release, online, 9th August 2021) <https://press.un.org/en/2021/sgsm20847.doc.htm>. 

Cover image: Daily Caller (2021)